Over the years we've developed what we feel is an optimal approach that's based on excellent industry research, as well as our own experience within the trade.
Our process begins with appropriate
wood preparation
. Each frame element is sanded clean to open pores, preparing the wood to receive the stain.
Second,
our wood is kept inside
—strictly no sunlight allowed—throughout both the stain prep and cure time. We aren't just being over-protective; rather, stain life and durability is directly linked to the woods' exposure during this process.
Third, when we apply the stain,
we spray and back-brush
, ensuring the application is adequate and consistent. What's more, this is all done in a controlled environment that provides optimal climate conditions for both application and curing.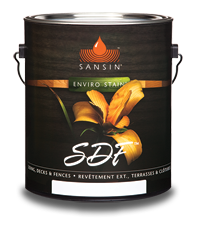 Our stain of choice is
Sansin SDF
, a
premium Sansin enviro-stain
, developed for exterior wood surfaces. SDF is designed to be highly water-repellent, and is the natural choice for homes and structures in moisture-rich environments. Not only does SDF protect the outside of your wood, it also protects the inside by allowing the wood to "breathe" which helps prevent moisture from getting trapped in the wood and causing rot.
Then, as a finishing touch when the frame is up, we inspect all components to ensure that any damage to
the finish is touched up
for both beauty and maximum protection.
To us, this process is serious business. To you, it's the guarantee that your newly installed frame is best positioned for maximum, long term beauty and quality. Don't settle for less.